16 July, 2017 — by Nicholas O'Flaherty
In this podcast, we talk to Lewis Pugh, UN Patron of the Oceans, about the Ross Sea Marine Protected Area
11 July, 2017 — by Nicholas O'Flaherty
In this podcast, we talk to Professor Robin Bell of Lamont- Doherty Earth Observatory, about the Gamburtsev Mountains in Antartica.
05 June, 2018 — by Nicholas O'Flaherty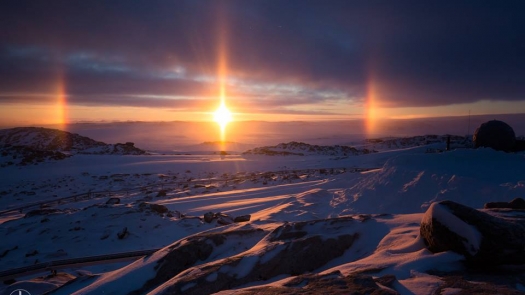 Sun dogs are caused by ice crystals refracting sunlight, which create bright spots either side of the Sun.
20 May, 2018 — by Nicholas O'Flaherty
Australia will build the first paved runway in Antarctica, 6km from Davis Station, providing year-round air access to the continent, and complementing the summer-only runway on hard ice at Wilkins.
07 January, 2016 — by Staff Reporter
A team of scientists supported by the National Science Foundation (NSF) will be taking off in a specially-modified Gulfstream V jet this month as they survey remote parts of the Southern Ocean.
13 June, 2018 — by Nicholas O'Flaherty
Antarctic ice loss has tripled in a decade, most definitive figures yet: Earth's largest ice sheet #Antarctica lost 219 billion tons of ice annually in 2012 - 2017.